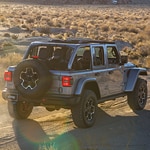 The 2022 Jeep Wrangler doesn't just have an eye-catching design. The Wrangler performs exceptionally well on the road and offers advanced utility features that distinguishes itself from its competitors. If you've had your eye on the 2022 Wrangler, keep reading to learn just why this Wrangler is dominating the road.
2022 Jeep Wrangler: Highlighting Utility
The 2022 Wrangler gives drivers everything they need to dominate the road and tackle rough terrain. This is thanks to the fact that the Jeep Wrangler is equipped with a standard 3.6-liter v6 engine.
But that's not all. The Jeep Wrangler is certified Trail-Rated, meaning that it has been tested and proven to handle various terrains seamlessly.
The 2022 Wrangler also offers flexibility to drivers with several customizations to transform your driving experience. The Wrangler was engineered in a way that enables drivers to remove their Jeep doors without needing assistance for others. Hit the road and feel the breeze as you travel.