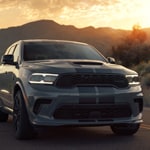 The Dodge Durango here at Ralph Sellers Chrysler Dodge Jeep comes packed with high-tech features for efficiency and enhanced performance. This SUV comes with a number of features specifically designed to ensure you use the right amount of fuel. While the 3.6-liter Pentastar V-6 engine offers a great deal of mileage on the highway, its 5.7-liter counterpart comes with an advanced fuel-efficiency system.
The Dodge Durango HEMI V8 engine comes standard with a fuel-saver system that automatically switches off the cylinders that are not required to offer an even greater fuel economy. This fuel-saving technology will detect and deactivate half of the engine, depending on the vehicle's demand.
When you are driving your Dodge Durango in less demanding terrain in Gonzales, LA, you may not even notice the switch. The fuel-saver technology works seamlessly using the variable Valve Timing feature. The computer-aided system will recycle the heat produced for efficient power production by the engine system. This, together with the Eco Mode, offers an extra mileage on your Dodge Durango.