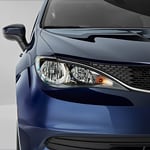 The most popular minivan in the Chrysler's lineup is the Chrysler Voyager. This minivan is amazing, not for its ample space inside or even the luxurious ride, but for its enhanced features that makes it a superior model in the lineup.
The 3.6-liter V-6 engine in this roomy minivan produces 287 horsepower and 262 pound-feet of torque. The Voyager can actually go anywhere because of its front-wheel drive system. All this is made possible, thanks to the car's silky smooth nine-speed automatic transmission.
The Chrysler Voyager is an excellent vehicle for families as it can comfortably accommodate up to eight passengers and their luggage. You can also take this minivan anywhere without the fear of getting stuck. With this minivan, you can easily tow along a small camper to your next camping destination.
When it comes to long road trips, nothing beats the Chrysler Voyager's ability to reach highway speeds quickly. This car is a blast to drive in any weather or road condition, thanks to its quick and agile transitions.