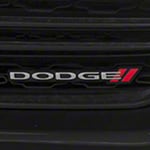 The new Dodge Charger is a popular and sporty midsize sedan that is a showstopper on the road. Its sleek and stylish design highlights the interior luxuries that you get when you choose the new Charger for your own.
Start with its heated and leather padded steering wheel. No more touching an ice-cold steering wheel on frigid winter mornings. Drive in comfort with a steering wheel that is warm to the touch and designed to keep your hands cozy while you drive.
Also check out the new Charger's Sync 3 technology that is designed to keep you connected to your favorite wireless services even while on the go. Pair your smartphone or tablet to the Charger with its included Apple CarPlay or Android Auto. Access your favorite apps and playlists from your device.
With Ford Pass Connect, you can also subscribe to the Charger's optional WiFi hotspot. Get 4G LTE WiFi to keep your devices connected.