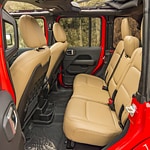 When it comes to contemporary SUVs, few automobiles can outclass the 2020 Jeep Wrangler. This vehicle has everything from a high-performance engine to exceptional good-looks. The new Wrangler comes in a multitude of trim levels, and consumers can choose from various exterior paints. This SUV sits at an estimated 10 inches above the ground.
The interior of the 2020 Jeep Wrangler is well crafted. Hours and hours of painstaking work has gone into creating this work of art. Leather-trimmed seats are on deck as well as weather-resistant removable carpet. The new Wrangler offers a booming sound system from Alpine. This sound system produces remarkable audio quality. You can even stream your songs via Android Auto. Apple CarPlay is also available, which will come in handy for iPhone users. There's also an 8.4-inch infotainment screen.
Swing by our location today to get a free test drive of the 2020 Jeep Wrangler.