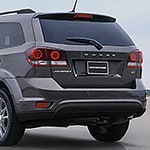 The Dodge Journey is a classic midsize SUV in all aspects besides its technology features. In some ways, it's everything you'd expect out of an SUV - it's reliable, easy to maneuver, and comes with a lot of cargo space. However, it also breaks the mold in a lot of ways as well.
The Dodge Journey features some advanced technology that isn't often seen in even new models of SUV. This includes the UConnect Nav 3 navigation system, which makes finding your path through traffic an easy one. The Journey also has an available upgrade to this already substantial navigation system, which is the Uconnect 4C Nav. This system includes hands-free calling and other features that upgrade the Nav 3 to an almost entirely new navigational experience.
If you're at all impressed by the sound of the Dodge Journey, then maybe you should give this midsize machine a test drive here at Ralph Sellers Chrysler Dodge Jeep.